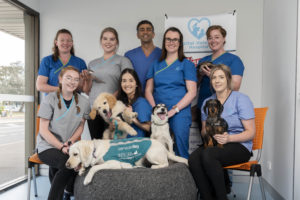 Capital Veterinary Hospital staff is filled with highly trained and experienced animal lovers who care deeply about their jobs. Everyone makes it a goal to learn everything they can about the field they love in order to give our patients the highest level of care.
At Capital Veterinary Hospital, we combine our fresh knowledge and long standing experience with state of the art medical facilities to provide the latest veterinary services for your loved pets. We would like you to have peace of mind that your pet will receive our best practical services while visiting our hospital.
Our team is also kind. The members treat each patient, whether healthy or sick, with plenty of love and attention. They educate owners on the importance of preventative care to keep their pets healthy, while doing everything they can to help when their pets are not feeling well.
---
Dr Ali Ashrafi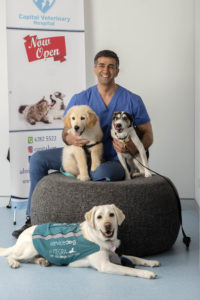 Dr Ali opened Capital Veterinary Hospital in November 2018, fulfilling a lifelong dream of having his own veterinary hospital in Canberra. He spent many months designing a practice that reflected his personal philosophy of veterinary care and has filled it with the latest high tech equipment.
Dr Ali graduated in 2001 as a Doctor of Veterinary Medicine and holds a Diploma Degree in Veterinary Medicine in Pharmaceutical Sciences. He also ran his own mixed animal practice for 9 years before migrating to Australia in 2011.
Dr Ali worked in two veterinary hospitals in Perth for five years and two veterinary hospitals in Canberra. He moved to Canberra for a temporary job as part of his journey to see the whole country. Loving the cold weather and green nature, Dr Ali decided to stay in Canberra for good.
Dr Ali is very caring and committed to his work. He is always available to help animals in need, opening the practice on weekends and public holidays as well as after hours emergency work. He is passionate about internal medicine, surgery and ultrasonography; however his expertise is not limited to small animals. His knowledge and experience in veterinary medicine extends to farm animals, equine, pocket pets, birds and exotic animals.
Dr Ali doesn't have much spare time now he has his own practice ensuring the smooth running of day to day operations. Of course he has hobbies; he loves travelling, camping and mountain climbing.
---
Nicole Guy ~ Vet Nurse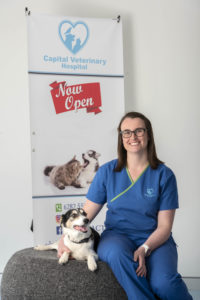 From a very young age Nicole had a passion for animals great and small.
At the age of 10 she was introduced to horses and owning one certainly kept her busy out of school hours!
Once finishing high school, Nicole searched high and low for different opportunities to start a career helping animals. She was fortunate enough to secure a reception job at a local clinic. They helped start her career and she ventured with them through to nursing for a fantastic three years.
Nicole couldn't turn down the amazing opportunity to work here at Capital Vet, where with honour she provides the highest care for all patients and their owners.
At home Nicole cares for her two horses (Noah & Monty), two cats (Lilly & Freya) and her dog, Daisy.
---
Emma Bondarenko ~ Vet Nurse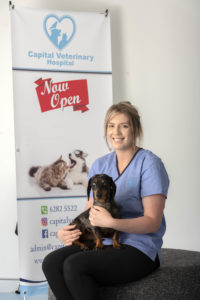 Emma is a qualified veterinary nurse, completing her Cert III in animal studies in 2011 and going on to complete her Cert IV in veterinary nursing in 2012. Emma has always endeavoured to stay up to date with veterinary studies, taking any opportunity to improve her skill set and knowledge. She finds it a vital asset to always improve so that she can perform outstanding care for all clients and patients of Capital Veterinary Hospital.
Emma has three very rambunctious dachshunds (Frank, Benji & Rollo) that certainly keeps her busy and there is also Angel, a Jack Russell X who certainly doubles up as a couch potato and a full time vacuum cleaner for the kitchen. During her spare time Emma likes to play the piano, keep fit and healthy, go horse riding and applying behaviour adjustment training methods to help her anxious dachshund Benji.
Emma aspires to one day be finding herself applying for the bachelor of veterinary science and hopes in the future, to be helping the furry, feathery and scaley as a veterinary surgeon.
---
Sarah Sergeant ~ Vet Nurse Trainee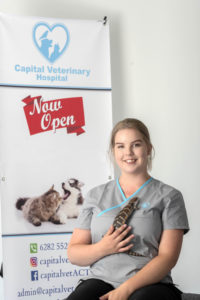 Sarah is a trainee vet nurse at the Capital Vet. This year, she completed her Cert III in Companion Animals and is currently pursuing her Cert IV in Veterinary Nursing.
At home, she have two Burmese cats (Gaston and Jasmine), one Eastern blue tongue lizard (Alfie), one Eastern Bearded Dragon (Norman) and a cold fresh water fish tank.
Sarah is very passionate about dog training and socialisation. She shares Steve Irwin's passion for animals and plans to go above and beyond client's expectations, delivering only the best possible service.
---
Sam Jenkinson ~ Vet Nurse Trainee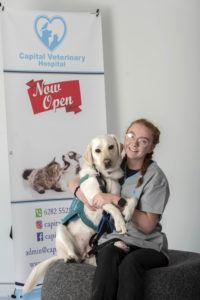 Sam has spent the last few years as a member of the Australian Defence Force and is now studying her Cert IV in Veterinary Nursing, combining a career with her love and passion for animals.
Sam kept busy with her three pet dogs (Georgia, Bella and Sarah), two cats (Minerva and Humphrey), two rabbits (Penny and Keith), three birds (Reggie, Sawyer and Marge) and my Integra Service Dog Karma.
Sam is very excited to be at Capital Vet and help all of your beloved pets in any way that she can!
---
Isabella Evans ~ Vet Nurse Trainee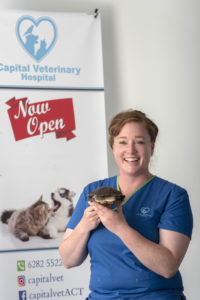 Isabella Evans is a student Veterinary Nursing at the Canberra Institute of Canberra and a fourth year Dental Science student at Charles Sturt University. In December 2018 she travelled to Phnom Penh, Cambodia where she studied physiological and behavioural indicators of dental pathology in captive Malayan Sun Bears.
Isabella's work with animals began in 2012 when she was mentored by veterinary behaviourists in canine behaviour at the Delta Society Australia. She now works at the National Zoo and Aquarium with exotic animals, including the Malayan Sun Bear. Isabella is passionate about wildlife conservation and has conducted literature reviews for the Humane Society International, as well as wildlife care of native birds for WIRES.
Pictured with Isabella is 'Big Turtle' an Eastern Long-Necked Turtle who is 16 years old.
---
Mikaela Krajina ~ Vet Nurse Trainee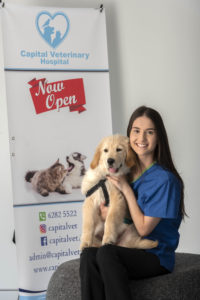 Mikaela has always had a passion for animals and has wanted to work with and be around them since she was small. She has grown up with many different animals – dogs, mice, guinea pigs, birds, lizards and fish. Mikaela currently lives with her cheeky Golden Retriever, Ollie.
At the beginning of 2018, she enrolled in Certificate III of Animal Studies with the Australian College of Veterinary Nursing. Mikaela has almost completed her course and hopes to progress towards her Certificate IV in Veterinary Nursing. After that, Mikaela plans to do her Diploma of Veterinary Nursing.
She came to Capital Veterinary Hospital after working in a smaller Canberra vet clinic and completing work experience with animals around the state.
Mikaela is very passionate about what she does and loves to learn new things. She aims to provide the best possible care to all the animals, and treat every one of them as if they were her own – so lots of cuddles will be provided!
Mikaela hopes to see you and your fur babies soon!
---
Emma Lloyd ~ Vet Nurse Trainee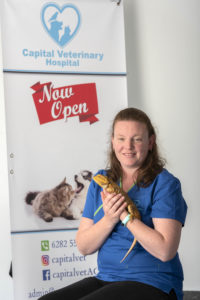 Emma is a trainee veterinary nurse with the Capital Veterinary Hospital. She has completed her Cert II in Companion Animals and is currently half way through completing her Cert IV in Veterinary Nursing. Currently her family hosts a small menagerie of 4 legged family members, including a Labrador (Sasha), Labrador x Bloodhound x Cocker Spaniel (Sophie), Poodle x (Alfie), Pomeranian x Chihuahua (Miko), pure Pomeranian (Bicky), 2 Eastern Blue Tongue Lizards (Thor & Leonard), an Eastern Bearded Dragon (Spike), a Central x Eastern Bearded Dragon (Peaches), 4 Eastern Long Neck Turtles (Mack, Rover, Chip and Mertle) and lastly Marbles the mouse. She also has two Children who are 8 and 5.
Emma is extremely passionate about the health and wellbeing of all animals and teaching people how to care for their pet. This is why she has chosen to enter this field of work. Eventually Emma would love to move to a property and have rescue animals, such as Clydesdales needing to be rehabilitated and live out the rest of their lives in peace and with love.